pokaż tył okładki
---
Wydawnictwo:
Carus
Nr katalogowy: CAR 83027
Nośnik: 1 CD
Data wydania: listopad 2015
EAN: 4009350830271
54,00zł
w magazynie
Zamów
Nasze kategorie wyszukiwania
Rodzaj:
christmas
Christmas carols of the world vol. 2
Carus - CAR 83027

Wykonawcy
Athesinus Consort Berlin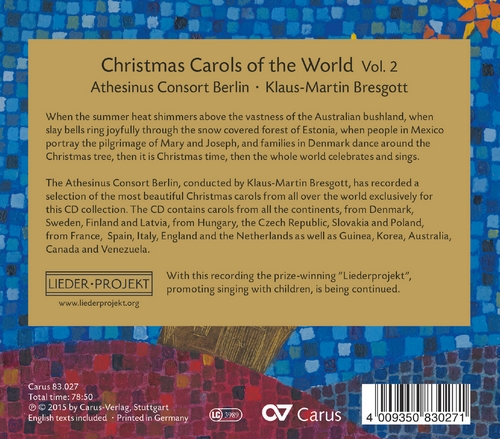 When the summer heat shimmers above the vastness of the Australian bushland, when slay bells ring joyfully through the snow covered forest of Estonia, when people in Mexico portray the pilgrimage of Mary and Joseph, and families in Denmark dance around the Christmas tree, then it is Christmas time, then the whole world celebrates and sings.

The Athesinus Consort Berlin, conducted by Klaus-Martin Bresgott, has recorded a selection of the most beautiful Christmas carols from all over the world exclusively for this CD collection. The CD contains carols from all the continents, from Denmark, Sweden, Finland and Latvia, from Hungary, the Czech Republic, Slovakia and Poland, from France, Spain, Italy, England and the Netherlands as well as Guinea, Korea, Australia, Canada and Venezuela.

With this recording the prize-winning "Liederprojekt", promoting singing with children, is being continued.