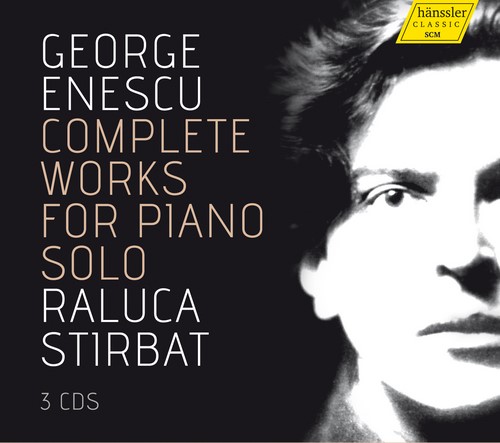 Wydawnictwo:
Haenssler
Nr katalogowy: H 98060
Nośnik: 3 CD
Data wydania: wrzesień 2015
EAN: 4010276028017
83,00zł
na zamówienie
Zamów
Enescu: Complete Works for Piano Solo
Haenssler - H 98060

Wykonawcy
Raluca Stribat, piano

CD 1:
Suite op. 3 Nr.1 "dans le style ancien" G Minor
(1897)
Prélude et Scherzo F sharp Minor (1896)
Barcarolle B flat major (1897)
La Fileuse D major (1897)
Impromptu A flat major (1898)
Regrets G flat major (1898)
Impromptu C major (1900)
Prélude et Fugue C major (1903)

CD 2:
Suite op. 10 Nr. 2 "Des cloches sonores" D major
(1903)
Nocturne D flat major (1907)
Pieces Impromptues op. 18 (1913/16)

CD 3:
Sonatensatz F sharp minor – Moderato (1912)
Piece sur le nom de Fauré (1922)
Sonate op. 24 Nr. 1 F sharp minor (1924)
Sonate op. 24 Nr. 3 D major (1935)

George Enescu is mainly known as a legendary violinist; yet he was not less known as an exceptionally gifted pianist who has been admired and worshiped by his colleagues for his musicality. His expressive and elaborate compositions for piano are up to date underrepresented in the world of CD records.

This gap has been closed now: The Rumanian pianist Raluca Stirbat, who is one of the most outstanding representatives of her age in the Rumanian piano generation has recorded Enesu's complete works for piano on three CDs. And how!

She shows brilliant technique together with her relating selection of rich acoustic colours as Stirbat's complete portrait of the versatile pianist George Enescu becomes apparent. This picture is being completed by numerous premiere and world premiere recordings on CD.